Testing Services
The division provides testing services for textile materials, water and waste water testing, textile auxiliary chemicals and various parameters which are related to textile and other relevant industries and academic institutions. Our laboratories have been accredited by National Accreditation Board for Testing and Calibration Laboratories (NABL), New Delhi, as per ISO/IEC 17025 : 2017 vide certificate no. TC 6944.
The department's eco testing, water analysis and fibre & wet processing laboratories are equipped with State-of the-art testing equipment to carry out testing on various aspects namely,
Textiles (Fibre, yarn and fabric)
Textile accessories
Technical textiles
Medical textiles
Bio-degradability of chemicals
Packing materials
Water (Drinking water, construction water, bore well water, mineral water, etc)
Waste water / Effluent (general and as per TNPCB norms)
Industrial water
The lab has increased the no. of parameters in the scope of accreditation by more than 67 % compared to the previous cycle of accreditation which means increased range of testing of the products and improved recognition in the global market. Now, majority of the quality control tests required by buyers are included in the NABL scope of accreditation. Water testing to test drinking water, construction water, bore-well water, surface/river/ground water, water from purifiers, water from treatment plants, sewage water, effluent water, industrial water, etc.
Have also received NABL Accreditation in the year 2020. The lab is also equipped with facilities required to carry out the tests required for organic certifications like Eco mark in India, Global Organic Textile Standard (GOTS), Global Recycling Standard (GRS), etc. and pre-requisite testing for Oeko Tex certification.
The lab also has facilities for carrying out testing of oils, wax rolls, packing materials, sizing ingredients, etc as per the requirements of the respective standards. The pre-requisite testing was done on fibre, yarn, fabric and garment samples for different mills/exporters to meet regulations for OEKO TEX certification.
Consultancy Services
The division also offers consultancy services to textile chemical processing industries and other related institutions on various technical and commercial aspects such as technical guidance on textile wet processing and study of water consumption and / or material to liquor ratio of various processing machines. The following are the major consultancy services carried out by this division.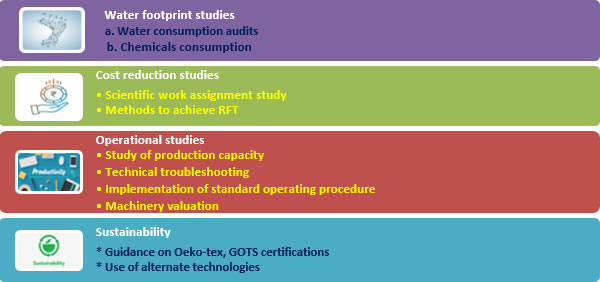 Research & Development
The main objectives of the division are to develop the sustainable textile processing solutions for the benefit of textile industries and to save our mother earth.
To achieve this goal, we have been working on the major research projects such as salt-free dyeing, natural dyeing, SCCO2 dyeing, use of alternate chemicals for finishing and related processes and novel effluent treatment techniques. In addition, this division is also focusing on the application of functional finishes for the welfare of human beings.
SITRA also believes that collaborations with suitable industry partners and likeminded research organizations will only help either parties to exchange knowledge in their respective areas of expertise and come out with commercially workable model / solutions for the industry.
The list of organizations with whom SITRA has collaborated in the recent are given below:
+ MEMORANDUM OF UNDERSTANDING – (MOU)
1. Super sales India Limited, Coimbatore.
2. Croda India Company Private Ltd, Mumbai.
3. Mak India Limited, Coimbatore.
4. World Wide Fund for Nature – India.
5. Tamil Nadu Agricultural University (TNAU), Coimbatore.
6. Hydra Consulting Services private Limited, Coimbatore.
7. Devan Supercritical private Limited, Pune.
8. Premier Evolvics, Coimbatore.
9. Precot Ltd, Coimbatore.
10. Colourtex Industries Private Limited, Surat.
11. Sri Kannapiran Mills Limited, Coimbatore.
12. Forest College and Research Institute (FC&RI), Mettupalayam.
13. The Synthetic & Art Silk Mills' Research Association (SASMIRA), Mumbai.
14. Viswam Dyes & Chemicals, Tirupur.
Training Services
The department conducts training programmes on various aspects of testing, quality control, general analysis, instrumental analysis to mill technicians, international participants, students, research scholars, etc. The details are given below:
Process and quality control in textile chemical processing
Water and effluent testing
Functional skills in testing and quality control for lab technicians
Practical aspects of wet processing
Evaluation of functional properties of textile materials
Defects analysis & their remedies
Practical aspects of wet processing
Eco-labeling and green processing of textiles