SITRA – Centre Of Excellence For Medical Textiles
SITRA has been designated as a Centre of Excellence (COE) for Medical Textiles by the Office of the Textile Commissioner, Ministry of Textiles (MoT), Government of India under Mini Mission I of Technology Mission on Technical Textiles (TMTT) in recognition of excellent research accomplishments in the field of Medical textile industries. SITRA has set-up a state-of-the art facility for pilot scale manufacturing and quality evaluation of medical textile products. We have a dedicated group of textile technologists as well as experts in allied fields like Microbiology, Biotechnology and polymer chemistry to carry out research, training and consultancy to the textile industry as well fast emerging medical textile domains. The centre has served as a backbone for many businesses in the Medical Textiles market by providing technical assistance to many domestic and international manufacturers right from concept to product.
The centre with its well-equipped competency for Medical textile testing, established dedicated laboratories to suit different functional requirements.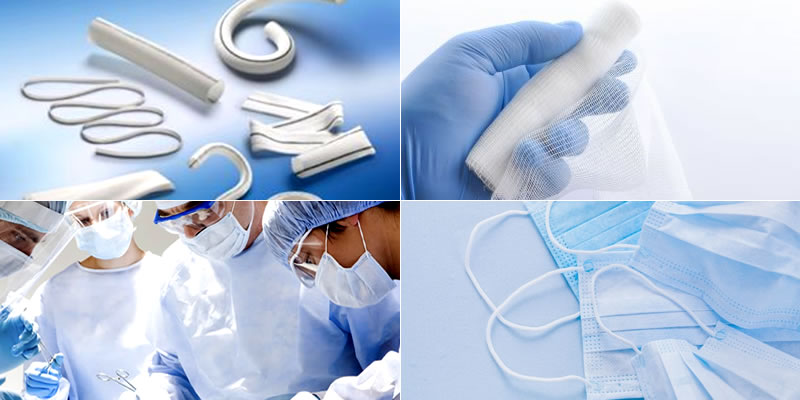 COE Meditech Objectives
The activities of CoE-Medical Textiles are aimed to provide various services to industry / educational institutions / individuals as listed below:
Testing and Evaluation (Physics, Microbiology, Bio-Technology, Polymer)
Standard Formulation (BIS, International bodies)
Incubation Services
Detailed Project Reports (DPRs)
Pilot Scale Production (Medical/Technical Textile Products such as Face Mask, Sanitary Napkin, Surgical Gown, Wipes & many more)
Training and Seminar
Technical Consultancy
Testing Instrument / Product Machine – Technology Development
Prototype Development
Research and Development / Contract Research
Information Resources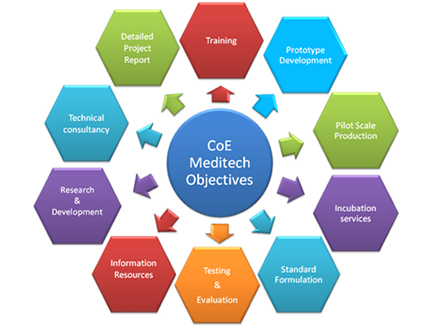 Research Projects
SITRA COE Medical textiles division undertaking projects to develop innovative / functionality improved products/ instruments indigenously available at low cost for the industry / market. The division has developed products such as
Bifurcated Vascular Graft for replacing the damaged blood vessels
3D compression bandages for Lymphedema
Spun-lace nonwoven wound dressings for malodour infected wounds
Breathable Surgical gowns treated with Nano Finishes
Barbed – bi-directional surgical sutures for knotless operation procedure
Hospital bed linens with enhanced thermal properties for coma patients
Chitosan coated cotton gauze for improved wound healing process
Rotator cuff repair devices for repairing rotator cuff
Collagen coated Hernia Mesh for improved biocompatibility
Insole line for diabetic shoes
3D compression bandages for Lymphedema treatment
Cut resistant fabrics for producing garment and gloves for handling sharp objects
Breathable Viral Barrier Film for producing the comfortable surgical gown / Coverall
Transdermal Patches for controlled release of drug
Natural polymer based Nano-membranes for treating burn wounds
Haemostatic sponges for treating gunshot wounds
Embroidery based wound care products to induce angiogenesis in wound healing process
Leukodepletion Blood Filter for removing leukocytes from blood and its components before blood transfusion
Heat and Moisture Exchange (HME) Filter for ICU breathing circuit
Anterior Cruciate Ligament (ACL)
Clinical Heart patch fabrics
Evaluation of comfort index for surgical gown, hotel bedlinen, sports wear
Ongoing Projects
Design and development of facile high throughput needleless electro spinning set – up
Contract Research
Contract research projects are 60% sponsored by Ministry of Textiles and 40% by Industry. There are currently two contract research projects in progress.
1. Development of Collagen coated hernia mesh along with Cologenesis Health Care Pvt Ltd as industry partner.
2. Development of mopping pad using non-woven and woven structures with care med as industry partner.
FOR MORE DETAILS, Please contact:
Mr. S. Sivakumar,
Head – Chemistry and CoE Medical Textiles,
E-mail: [email protected] / [email protected]
CoE Medical Textiles Training Division,
The South India Textile Research Association (SITRA)
13/37, Avinashi Road, Aerodrome Post
Coimbatore – 641014, India
Phone: 0422-4215333 Extn: 369
Fax No: 0422 2571896, 4215300
Email: [email protected] / [email protected]