Testing Services Offered by SITRA – Centre of Excellence – Medical Textiles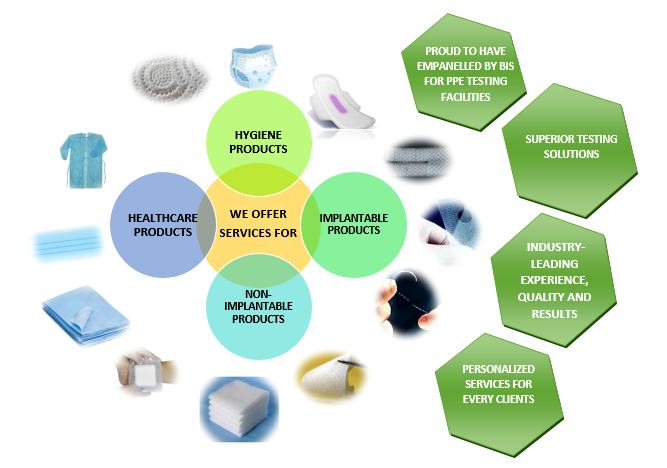 Instruments
The following instruments have been developed/ procured in order to characterize medical textile products.
1) Field Emission Scanning Electron Microscope (FESEM)
2) Synthetic Blood Penetration Resistance Tester
3) Hydrohead Tester
4) Spray Impact Penetration Resistance Tester
5) M259 B – Sweating Guarded Hotplate
6) Moisture Management Tester
7) Gelbo Flex Tester
8) Capillary Flow Porometer
9) Tensiometer
10) Compression Bandage Pressure Measurement System
11) Flushability Tester
12) Lister Ac & Wetback
13) Run – Off Tester
14) Martindale abrasion, pilling tester
15) High Performance Thin Layer Chromatography
16) Gas Chromatography
17) High Performance Liquid Chromatography (HPLC)
18) Fourier Transform Infrared Spectrophotometer (FTIR)
19) Atomic Absorption Spectroscopy
20) Vertical Flammability Tester
21) Inductively Coupled Plasma Mass Spectrometry (ICPMS)
22) Differential Pressure tester
23) Viral Penetration Resistance Tester
24) Bacterial Filtration Efficiency Tester
25) Particulate Filtration Efficiency Tester
26) Advanced Splash Resistance Tester
27) Fluid Handling Capacity Tester
28) Puncture Resistance Tester
29) Wet Bacterial Penetration Resistance Tester
30) Dry Bacterial Penetration Resistance Tester
Healthcare Products – Test Package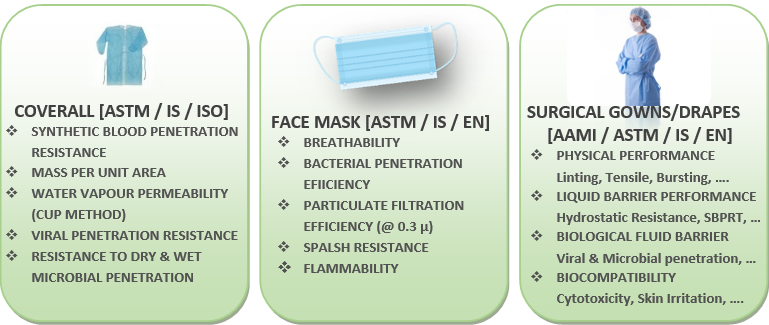 Hygiene Products – Test Package
Non-Implantable Products – Test Package

We also offer product test packages for other technical textiles, sports applications, implanatable and orthopaedic products – for more test or consultancy requirement please contact us.
For Testing Charges and Sample Size, Please click here.
FOR MORE DETAILS, Please contact:
Mr. S. Sivakumar,
Head – Chemistry and CoE Medical Textiles,
E-mail: [email protected]; [email protected]
CoE Medical Textiles Testing Division,
The South India Textile Research Association (SITRA)
13/37, Avinashi Road, Aerodrome Post
Coimbatore – 641014, India
Phone: 0422-4215333 Extn: 315
Fax No: 0422 2571896, 4215300
CoE Physics: [email protected] ; 0422-4215349
CoE MicroBiology/Bio-Technology: [email protected] ; 0422-4215323
CoE Polymer: [email protected] ; 0422-4215336