The Textile Chemistry Division offers a wide range of consultancy services to Textile processing and allied industries on various technical, commercial and sustainable aspects such as water audits, productivity improvement, process standardization, scientific manpower / work assignment study, Eco friendly processing technology, techno-economic viability studies and green field project implementation. Detailed services are given below:
Major Services
+ Water Consumption & Conservation Audit
SITRA's Textile Chemistry Division renders water consumption and conservation audits at textile processing units. The actual consumption of water, process time and conservation plans can be identified through the water audits. It helps in optimizing the process sequence and parameters to be considered.
SITRA has audited about 300 dyeing units in India. Tamilnadu Pollution Control Board (TNPCB) has recognised SITRA's Textile chemistry department to conduct water audits at textile processing units. The audit report helps to identify the conservation plans, increasing the production capacity and increasing the consent quantity of water to TNPCB.
+ Project Appraisal
The following areas are covered in the project appraisal activities of the department:
Selection of Plant & Machinery
Vetting of projects and their feasibility for bank / Govt. Approval purposes
Setting up new processing plant
Expansion projects
Setting up of In- house quality control laboratory
+ Eco friendly processes
SITRA's Textile chemistry division is working on various R&D projects in the areas of Greener and sustainable processing.A number of processes have been developed and are readily available with us for further commercialization. Few of the processes developed in the recent past are given below:
Eco friendly denim processing technology
Absorbent cotton technology (Cotton waste)
Natural dyeing techniques
Salt free dyeing
Identifying the usage of mixed salt for dyeing (Reuse concept)
Water less and water free techniques in textile processing
+ Technical Troubleshooting
SITRA's qualified and experienced team assists the industry in solving various problems encountered in textile processing industry with proven track records across India and abroad.
Process Standardization
Product development trials
Process optimization to achieve desired quality parameters
Technical Solution for the problems encountered during commercial production
Quality Issues
+ Inter-firm survey
The following inter-firm surveys are carried out across India and abroad as and when necessary:
Wet processing cost
Production cost
Production and process methodology
Door to door survey of Textile Processing units and common effluent plants
+ Work Assignment Study
SITRA's Work assignmentstudy forms the basis for scientific allocation work to each of the categories of workers and staff. SITRA's work assignment study comprises of the following aspects:
Scope for increasing the work assignments of operatives
Achievable labour productivity levels for the proposed assignments
Best work methods of operatives, housekeeping and materials handling
Identification of Training needs of operatives
Major Accomplishments
Textile chemistry division conducted around 300 water consumptions audits in Tirupur and Erode cluster.
Identified the usage of mixed salt (Effluent rejection) for dyeing.
Development of Better Fastness Dyeing methods for Kovai Kora Cotton Sarees
Natural dyeing of cotton material for woven and knitted baby wear
Study on fixing of inlet quality standards for the CETPs in Tamilnadu.
Technical advisory to setting up of brand new textile dyeing & printing unit for Kerala state Textile Corporation Limited.
Technical advisory to purchase and Installation of cheese dyeing machinery and allied machinery for The Tamil nadu co-operative textile processing mills Ltd., Erode, Tamilnadu
Conducted many market survey of dyeing process cost for Department of Handlooms and textiles (Supplying of free uniforms and Pongal scheme etc)
Door to door survey of textile processing units at U.P Textile clusters
Door to door survey of textile processing units at Bangladesh
Comparative analysis of competitor cotton roll samples.
Development of a process methodology for reuse of ginning cotton waste in hygiene core layer.
Study and identify the usage of brine solution (RO rejection) for dyeing.
Study and analysis of two cotton roll samples for improve the stickiness properties.
Process Development of Natural dyeing in cotton fabrics.
Shop floor investigation for water conservation in the process house
Shop-floor investigation for process and quality consistency in finish fabric
Solve the problem of higher reprocessing
Process house audit for detailed shop-floor studies
Review audit / observations / suggestions to avoid layer problem
Investigation for performance improvement in wet processing
Investigation for performance improvement in yarn dyeing
Preliminary studies on water conservation for a process house
Process control and water conservation audit in a process house
Solving starting mark like defects
Problem of holes in finished fabric
Holes in cotton fabrics
Reduction in re-processing and re-dyeing
Investigation in a process house to solve the problem of fabric stains
Suggestions to prevent fabric stains in a process house
Study on effluent treatment plant
Problem of TDS, COD and Colour in ETP
batch to batch shade variation
layer to layer shade variation in package dyeing
Shade variation from centre to selvedge
Problem of shade variation on PV dyed sorts
Developing of Viscose filament yarn dyeing
problem of dark dyeing defect in knitted fabric
Problem of colour fastness to light in PV suiting
problem of centre-selvedge shade variation in smaller width fabric
problem of red spots on the garments during processing
Trouble shooting of bowing and skewing problem in wider width sheeting for a mill
Trouble shooting of Problem of haziness/hairiness on dyed cotton quality
Major Beneficiaries
M/s. The Tamilnadu Co.Operative Textile Processing Mills ltd, Erode
M/s. Handlooms, Handicrafts, Textiles and Khadi Department, Tamilnadu
M/s. Tamilnadu Pollution control board, Tamilnadu
M/s. Tamilnadu Water Investment Company Limited, Tamilnadu
M/s. Kerala state Textile Corporation Limited, Kerala
M/s. Vardhman Yarns And Threads LTD, Perundurai
M/s. Madura Coats Private Limited, Ambasamudram
M/s. Indo Count Industries, Maharashtra.
M/s. Aditya Birla group of companies
M/s. KG Fabriks Limited, Perundurai
M/s. United Bleachers ltd, Mettupalayam
M/s. Jay Jay mills (India) Pvt Ltd Perundurai.
M/s. Ginni International ltd, Rajasthan.
M/s. AKR Industries Pvt Ltd, Perundurai, Erode.
M/s. Kavitha Dyeing's, Erode.
M/s. Loomtex Exporters, Karur
M/s. Amutham Wovensz, Coimbatore
M/s. SCM Garments Private Limited, Erode
M/s. Shivasakthi Fashion Pvt Ltd, Perundurai
M/s. PKP group of companies, Tirupur
M/s. Shakthi Knitting Private Limited, Perundurai
M/s. Jayan Traders & Technologies, Erode
M/s. Mercury process, Tirupur
M/s. Aviram Processing Mills , Tirupur
M/s. Dhnavarshini Exports pvt Ltd, Perundurai
M/s. Shiny Textile processing mills pvt Ltd, Erode.
M/s. Ramakrishnaa Processing Mills, Tirupur
M/s. Theni Guru Krishna Textile Mills Pvt Ltd, Perundurai.
M/s. Scotts Garments Limited, Tirupur
M/s. Eastman Exports, Tirupur
M/s. KTM Process, Tirupur
M/s. B.K.S Textiles Private Limited, Perundurai.
M/s. Arthanari Loom Centre Textile Private Limited, Salem
M/s. Free look Fashions Ltd, Perundurai.
M/s. Devi Thread Processors Pvt Ltd. Coimbatore.
M/s. India Dyeing Mills, Erode.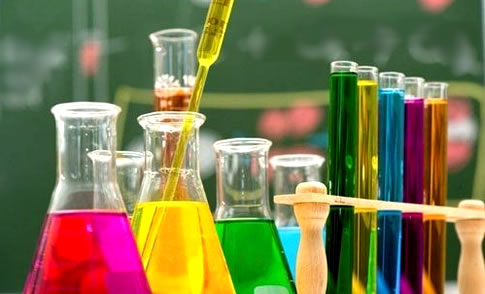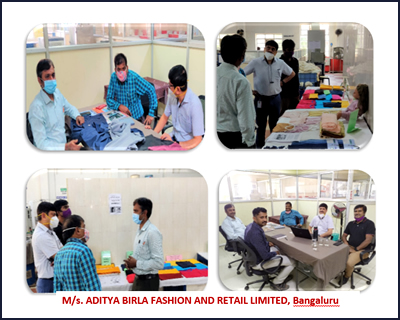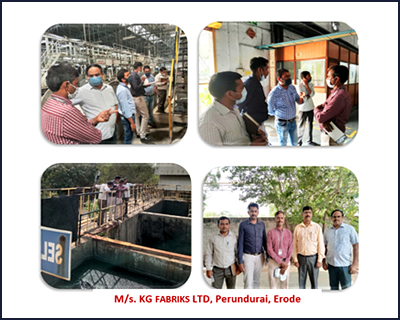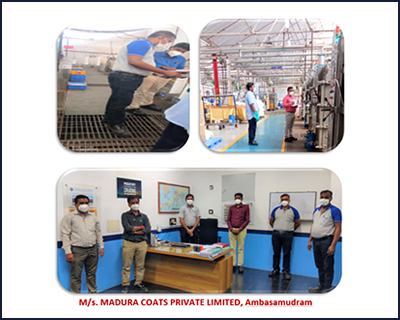 For further details contact:
Textile Chemistry Division,
The South India Textile Research Association (SITRA)
13/37, Avinashi Road, Aerodrome Post
Coimbatore – 641014, India.
Phone: 0422-4215333 Extn: 334
Fax No: 0422 2571896, 4215300
e-mail: [email protected]; 0422-4215334
Textile Processing: [email protected]; 0422-4215310
For further details contact:
Mr. S. Sivakumar
Principal Scientific Officer – Gr. 'A'
Head – Textile Chemistry Division &
CoE Medical Textiles
The South India Textile Research Association
13/37, Avinashi Road,
Civil Aerodrome post, Coimbatore – 641 014
Phone : 0422 – 4215333, 2574367 – 9, Extn.: 360
e-mail : [email protected].