SITRA CALIBRATION SERVICES
SITRA is a pioneer textile research association in the country with support offered by the Ministry of textiles, Government of India and the industry, offering multiple services like testing, calibration, energy audits, technical consultancies, training, etc.
The awareness on quality of products and services has grown manifold over the years on the industrial front as well as on the domestic front. The demand for quality products has increased to a great extent in spite of the higher cost, since a quality product scores over a cheaper competitor in the long run.
To continuously monitor the quality parameters right from raw material to delivery of the finished goods, an assortment of instruments are used by the industry. These instruments have to be accurate enough to measure the quality parameters of the materials or the tools and devices. In many instances these instruments are used routinely without taking into consideration the errors present in the instruments.
The accuracy of the instruments used in the organization should be periodically checked against a standard equipment to ascertain whether the deviations or errors in the instrument are within specified tolerances.
Necessity for Calibration of instruments
Like all other equipment, Measurement and Test Equipment are not ideal since they have inherent error elements. The Measurement and Test Equipment cannot caution the user as to when the instrument is operating out of its specified tolerance levels. Only a major malfunction is visible to the user and only a technically well-equipped calibration facility can determine the actual performance of the instrument and the associated deviations in the Measurement and Test Equipment.
The amount of error in an instrument can be determined by calibrating the instrument periodically. Calibration is the process of comparing the instrument under consideration with a standard reference equipment having Traceability to National or International Standards. Calibration of an instrument throws light on the quantum of error present in the instrument and its suitability for usage in the quality system. Depending upon the quantum of error, the instrument is set right by adjusting necessary settings and fine-tuning the instrument. If the quantum of error goes beyond standard tolerance levels, then the instrument should be prohibited from usage until the error is rectified and the deviations are minimized to tolerable limits.
SITRA has been offering calibration services for textile testing & measuring instruments for the past three decades. Calibration services are offered for instruments and testing machines used in spinning, knitting, processing and garmenting industries.
Many textile mills in Coimbatore, Tirupur, Salem, and neighbouring states have been regularly availing SITRA's calibration services for a variety of instruments. SITRA calibration certificates are accepted by ISO 9000, ISO 14000 certifying authorities.
Our calibration laboratory has got accreditation from National Accreditation Board for Testing and Calibration Laboratories (NABL), in accordance with ISO/IEC 17025:2017, for Mechanical, thermal and Electro technical calibrations.
(Accreditation certificate no. CC-2678) for the following parameters :
Dimensions
Volume
Temperature
Specific heat and Humidity
Timer
Temperature simulation
Pressure & vacuum
Speed
Weights
Weighing balances
Force – Tensile testing
Please find attached herewith a copy of SITRA's Certificate of Accreditation and the second file providing details of our calibration services.
We are happy to share the above information with you and earnestly hope that you will utilize our services for your calibrations needs.
Click here for List of Instruments Calibrated
SITRA Pressure Calibration Services
SITRA Engineering and Instrumentation Division has been offering calibration of textile testing equipment to Textile mills as well as allied industries. The calibration laboratory of SITRA is in the process of obtaining
NABL Accreditation for calibrations relating to dimensions, mass, balance and pressure. Pressure instrumentation plays a vital role in every textile mill and process plant. Periodic calibration of these pressure equipment is required to keep plants operating efficiently and safely. For example, the key benefits of calibrating a pressure gauge includes
a) a uniform splicing strength in auto coner b) identification of fitting leakages in the compressed air system towards saving energy.
SITRA provides a broad range of pressure calibration facilities towards helping mills for quick and reliable calibration of pressure equipment in the following ranges.
1. -1 to 10 bar | 2. 0 to 40 bar | 3. 0 to 200 bar | 4. 0 to 700 bar
All pressure calibrators available with SITRA are of high levels of accuracy with digital pressure indicators traceable to National standards.
SITRA's calibration charges for pressure gauges are given below
Initially this service is offered to SITRA Member mills.
For calibration services for bulk quantity of equipment exceeding 50nos, onsite calibration will be done with preferential charges. For outstation mills availing the calibration service, actual TA & DA charges of staff will be applicable.
For details Please contact: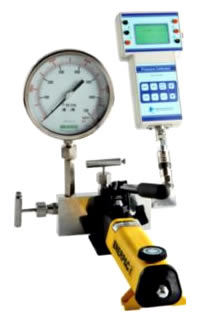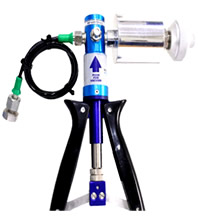 Textile Engineering and Instrumentation Division,
The South India Textile Research Association (SITRA)
13/37, Avinashi road,
Aerodrome Post, Coimbatore – 641014.